8525-001, 004 - 8086 CPU
---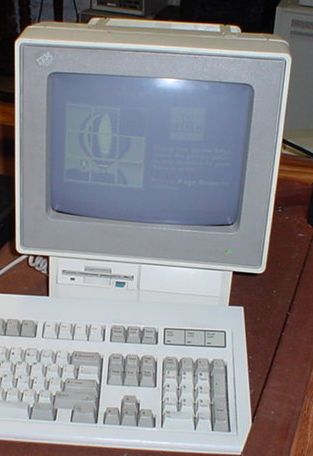 8525-001
The 8525-004 is the same as the 8525-001, only it features a color display. The only one of these I've ever seen with the monochrome display belongs to me, so it must not have been a popular choice, which is unusual considering the number of PS/2 Monochrome Displays I have.
---
Planar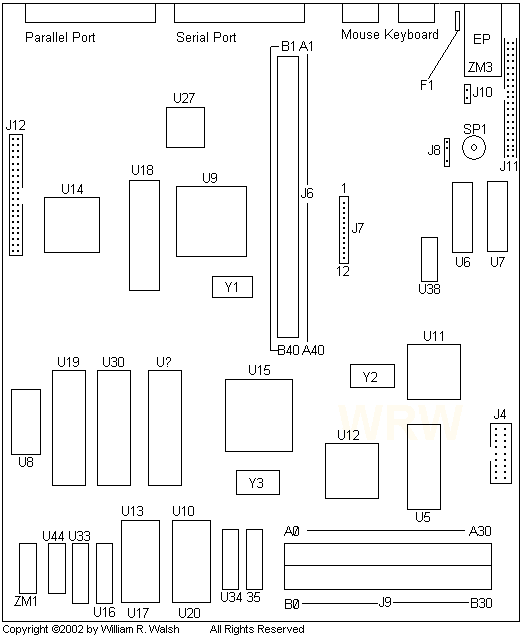 Components:

Finally! The maker of U11 and U15 has been uncovered!

U? - Intel 8086-2 CPU at 8MHz
U5 - Inmos IMSG171P Video RAMDAC
U6 - Hitachi HM53461P
U7 - Hitachi HM53461P
U8 - Intel P8253-5
U9 - 72X8203
U10 - ROM BIOS (also marked U20, don't know why)
U11 - Seiko Epson (

) SLA64030J2L
U13 - ROM BIOS, also marked as U17, no idea why
U14 - OKI/IBM 72X8206
U15 - Seiko Epson (

) SLA6330J1C
U16 - NEC D4164C-10
U17 - See U13
U18 - NEC D765AC-2 (FDC?)
U19 - Siemens 8237A
U27 - National Semiconductor NS8250AV
U33 - NEC D4164C-10
U34 - NEC D4164C-10
U35 - NEC D4164C-10
U38 - Sony CXK5864BM-12L
U44 - OKI M3764A-15
ZM1 - OKI M3764A-15 (no mistake--it is not a "Uxx" marked chip!)
ZM3 - Earphone Connector (the "EP" above is not marked on the planar, I added it)
Y1 - 14.31818MHz OSC for software clock (this system has no CMOS hardware clock!)
Y2 - 25.175MHz OSC for what?
Y3 - 48.0MHz - divided by 6 for CPU clock?
F1 - Keyboard Fuse

Other stuff:
SP1 - Speaker
J4 - Display Connector
J7 - Power Connector
J8 - Four pin header, three pins present. Possible external speaker?
J9 A/B - 30 Pin SIMM Sockets
J10 - Two pin header for ?
J11 - IBM Hard Disk (not IDE!)
J12 - Floppy Disk Connector

The 4xNEC D4164 make up the base 256K of RAM the system has. Beyond that up to 640K RAM maximum is provided by two SIMM sockets (J9 A & B) loaded with 256K SIMMs each. Yes, that adds up to 768K, but I'll bet the rest is ignored by the system. Standard 256K SIMMs will work, but if you don't install them in pairs, the system only sees the 4x4164 chips.

---
Back to Model 25 Page >
Back To Computers Collection >