Magni PS/2 VGA Producer
Magni Systems is still around.
Magni Remote Control Unit
Setup as Composite Video

---
Magni PS/2 VGA Producer

J290 RJ-45 jack for RCU
J390, J391 S-VHS port
J490 HDD15
P110 3 pin header
P160 10 pin header
P240 10 pin header
P540 VESA pass through header
P550 3 pin header
P551 3 pin header
Potentiometers Could be caps- marked '501'
RP1 0605X681G 6 pin
RP2 1009X681G 10 pin
RV140 Bourns 3323 Pot
RV340 Bourns 3323 Pot
U100 Siemens SAB 80535-N
U120 573-0673-00
U130 -5004
U140 Brooktree Bt477KPJ35
U260 Voltage Regulator?
U301 U2-01
U310-U313 Mitsubishi M5M4C500L -6
U320-U323 Mitsubishi M5M4C500L -6
U340 Brooktree Bt477KPJ35
U500 -5003
Y100 12.00 KHz Xtal
Y480 14.3189 MHz Xtal
RVxxx could be bias resistors needed by the Brooktree Bt477s. U260 looks like a linear switching power regulator (like the Power Tech on the ServerGuard).
Two S-VHS ports. ???
No idea what adf. If you have this card, or documentation on it, contact ME!
Magni RCU
From Dave Keiller
I agree 99+% MCA adapters do require an ADF, but this card is an exception. It only uses the computer for it's video support. I'll send a drawing of the unit hook up. The card is used for video and graphic mixing, cutting, and fading but software is not required or used.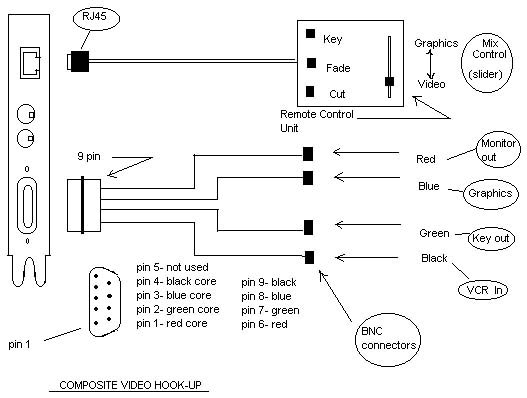 Magni VGA Producer as Composite Video Source ?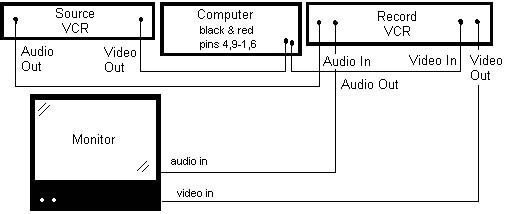 Any more info, Dave? Send it to ME