Ultimedia (7-6)
Ultimedia Audio Adapter for RS/6000
Ultimedia FRU 39H8179 (P/N 11H7636? FRU 88G2774?)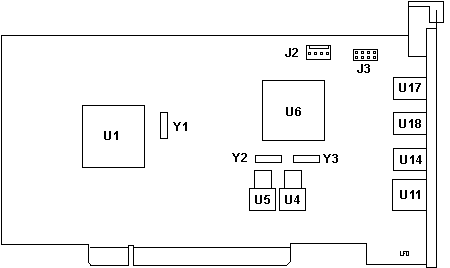 J2 4 pin jumper
J3 6 pin jumper
U1 SMC MCI94C18ALJ P
U4 Motorola 7808CT
U5 ST L7908CV
U6 Crystal CS4231A-KL
U17 Microphone
U18 Input
U14 Output
U11 Headphones
Y1 1.8432 MHz xtal
Y2 D245M5 xtal
Y3 16.9344 MHz xtal
1
DETAILS OF SUPPORTED FUNCTIONS
o Audio Formats Supported
- PCM: 8-bit unsigned, 16-bit 2's complement in big or little endian format
- Mu-Law: 8-bit companded
- A-Law: 8-bit companded
- IMA ADPCM: 4-bit
o Supported Sampling Rates (KHz)
- 5.51, 6.62, 8.0, 9.6, 11.025, 16.0, 18.9, 22.05, 27.42, 32.0, 33.075, 37.8, 44.1, 48.0
o Audio Mixing is supported from various sources, including PLAY,
AUX1, Line Input, and Left Mic Input.
o Simultaneous Play and Record may be done at the same selected sampling rate but the format selection of each (including stereo or mono modes) may be different.
o External Connections:
- Left and Right Mic Input
- Left and Right Line Input
- Left and Right Line Output
- Left and Right Headphone Output
o Internal Connections:
- Left or Right AUX1 (This connection is available from installed CD-ROMs via the supplied cable.)
o System Interface
- Two DMA channels
- 16-bit addressing, no parity
- 8-bit data, no parity
o Cabling
- Internal audio connector cable for connection to CD-ROMs on certain workstation models
o Programming Interface
- Ultimedia Services 1.2, or later, supplies device driver, API, and GUIs to support this adapter card
PHYSICAL INTERFACE SPECIFICATIONS
INPUT ANALOG PARAMETERS
o Maximum Sampling Rate: 48KHZ
o Input Channel Bandwidth: 10Hz -- 20KHz
o Dynamic Range: 16 bits
o Signal to Noise Ratio: 78 dB typical
o Line Level Input Impedance: 15K ohms typical
o Microphone Input Impedance: 3.5K ohms typical
o Microphone Gain: 32 dB typical
OUTPUT ANALOG PARAMETERS
o Output Sampling Rate: 48KHz
o Output Channel Bandwidth: 10Hz to 20KHz
o Signal to Noise Ratio: 78 dB typical
o Dynamic Range: 16 bits
o Line Level Drive: 10K ohms minimum
o Line Level Voltage: 2 V RMS typical
o Headphones Drive: 1.5 V RMS at 32 ohms typical
o Speaker Output: Connects to MCA Audio Summing Node
CONNECTOR TYPE
o Line out: 3.5 mm (1/8-inch) jack
o Headphone: 3.5 mm (1/8-inch) jack
o MIC in: 3.5 mm (1/8-inch) jack
o Line in: 3.5 mm (1/8-inch) jack
STRATEGIC ARCHITECTURES
The Ultimedia is a codec only based adapter that offers the advantage of quick, cost effective software upgrades to enhance function and performance versus hardware modifications or additional cards. The Ultimedia design eliminates extraneous audio hardware support requirements beyond the codec chip. The codec chip provides for data conversion between the analog audio signals and standard digital audio formats.
APPLICATION DEVELOPER PRODUCTIVITY
IBM Ultimedia Services for AIX (refer to Software Announcements
294-458 and 294-459) used with the Ultimedia enhances productivity through the use of a graphical user interface and the availability of
object-oriented programming support. The Ultimedia and IBM Ultimedia Services for AIX support industry standard audio input/output formats and increase application programmer productivity in writing multimedia applications.