NCR 3350

3350R208.EXE 3350 Refdisk ver 1.11.00 Y2K Compliant
3350SD01.EXE 3350 Service Diags Disk 1 of 1 ver 2
3350UD01.EXE 3350 User Diags Disk 1 of 1 ver 2.04
HIGH_RES.EXE 77c22(e) DOS Device Driver (ver 2.10)
WIN_31.EXE 77c22(e) Windows 3.1 Video Drivers
CLR1SS01.EXE Clarity I SSD (Win & NT) v 1.30
CAMC9X.EXE CAM disk drivers for 53C9X SCSI host
CDSCSI-2.SYS DOS CDROM Driver for SCSI 2 Devices
Other specific CD Rom drivers are HERE

---

System Board P515-0001724C?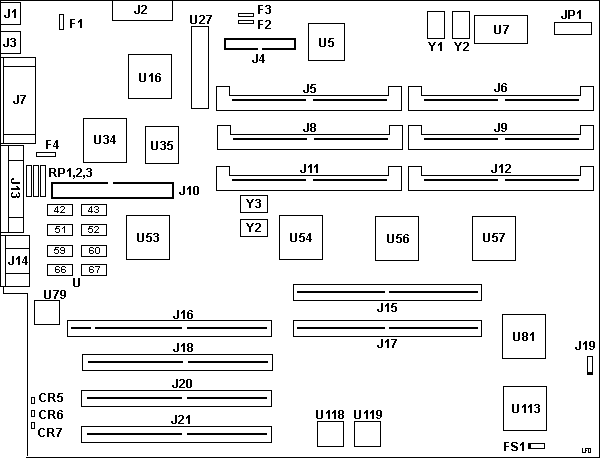 CR5 +12v LED
CR6 -12v LED
CR7 +5v LED
F1 KB fuse 1.5A
F2 5v floppy fuse 3A
F3 +12v floppy fuse 3A
F4 SCSI termpwr fuse, 1A
FS1 CMOS clear
J1 KB
J2 Power
J3 Mouse
J4 Floppy
J5,6,8,9,11,12 72 pin SIMM
J7 DB25 serial (top) parallel
J10 SCSI
J13 Ext SCSI HPDB50
J14 HDD15 video
J15 Processor slot
J16 AVE slot (in line with J17)
J17 Video slot (used by Clarity)
J18,20,21 32 bit slots
J19 Audio connector
JP1 4 pin power conn (molex)
RP1,2,3 SCSI termpacks
U5 N82077SL-1
U7 DS1387 RTC/NVCMOS RAM
U16 WPD Falcon E 006-2001895
U27 P8242PC
U34 53C94 609-3400508
U35 86C01 609-3400462
U42/3,51/2,59,60,66/7 DRAM
U53 77C22E 609-3400544
U54 VLSI VY14634-2 006-2004999
U56 VLSI VY14669-2 006-2006190
U57 VLSI VY14634-2 006-2004999
U79 Samsung (?) KDA0476BPL
U81 WPD Clemson 006-2001325
U113 LSI L17A7552 006-2005052
U118,119 MHS 006-2002148
Y1 1.843200 MHz osc
Y2 24.00000 MHz osc
Y3 65.00000 MHz osc
Y4 14.31818 MHz osc
1
> What kind of SIMMS does it use?
Parity 70 ns 72 pin. Six sockets for industry standard SIMM parity memory up to 192 MB 20 MB/second Micro Channel bus
SCSI Termpacks are Dale 8 pin SIPPs, 221-331G (dtd '93)
DRAMs are (x8) Siemens HYB514256BJ-70
Processor Card GAL-LITE CPU W/Cache Adapter, FCC C6P3350-66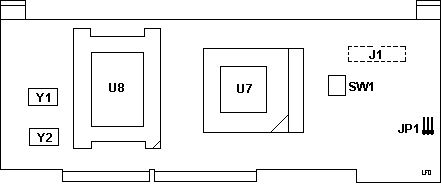 J1 outline for 20 pin header
JP1 Fan header
SW1 CPU Type
U7 Socket 2 ZIF
U8 Mondo L2 cache socket
Y1 60.00000 MHz osc CPU Clk
Y2 66.6667 MHz osc DMA Clk
1
JP1 Header for left fan. Gnd +12v Gnd
U8 Cache used on Zeos and Reply systems.

CPU Settings on SW1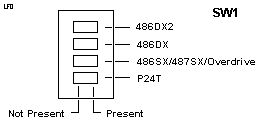 NOTE: Processor card will not operate if more than one processor type is selected.

---
Two 50 to 19,200 baud serial ports
One 8-bit parallel bi-directional port
> How many bays does the case have? What are their configurations? Are they internal? external?
The 3350 has 4 drive bays. Two are external (the top external bay can hold a 5 1/4" device like a CDROM drive). The other bays are for 3 1/2" devices only. In order to get the fourth bay (the "upper" "rear" bay, two sheet metal extenders are installed above bay three (bay three is the "lower" "rear" bay). If bay four is used, you cannot use the upper front bay for a 5 1/4" device (there is not enough room).
There is also a SCSI connector on the back of the system for external
SCSI devices.

There is a socket on the non-SX version of the processor board for a
128K cache (optional).
The SX board has the SX chip surface mounted and no
switchs. The DX2 board has the CPU in a ZIF socket with a switch
block next to it
Cache Memory Socket which supports 64 KB or 128 KB cache
module You need the latest BIOS from the BBS: 1.09.00 or later. 83mhz upgrade really does improve things...
4 MCA slots. One is an MCA video slot, and has the extra connector for
the Clarity 1 card.
> What kind Video subsystem does it have? What is the chipset?
NCR 77C22E. Capable of 1024X768 256 colors.
There was an optional video board built specifically for the 3350
called the "Clarity 1". It plugged into a proprietary slot, and was
capable of up to 1280x1024.
> How much Video ram does it have?
The 77C22E has 1 MB of video RAM. The Clarity 1 has 2 MB. The feature/kit number for the clarity 1 is 3350-F/K256.
http://www3.ncr.com/support/pc/pcdesc/library/3350_55.shtml
> How can i do for install easely install one of the two ? --- No CD driver on this machine :-(( , because MCA bus ---
You need DOS CDROM drivers to install Win 95 or NT. Take a look at
http://www3.ncr.com/support/pc/pcdesc/library/3350_55.shtml.
You have a 53c94 SCSI host adapter on the motherboard. You will need two drivers - the CAM driver and the CDROM driver. Your config.sys should look something like this:
DEVICE=a:cam_c9x.SYS /D
DEVICE=a:cdscsi-2.sys /D:ASPICD0
Some of the older 1x CDROM drives (like the Sony or the Toshiba) needed a specific driver (in place of cd-scsi-2.sys).