RS/6000 Trivia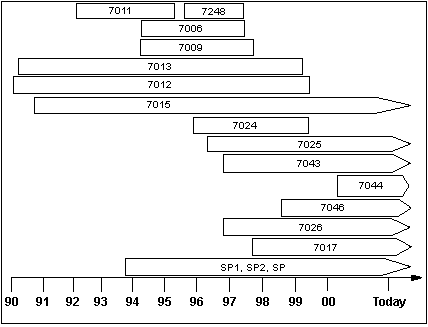 The code (Kenneth)
Model CPU Clock Bus Form
7006 80-120MHz MCA Entry Desktop
7006 Overview IBM RS/6000
41T
41W
42T
42W

---
7007-N40 IBM RS/6000 Model N40
---

7008 Overview IBM RS/6000
7008 Overview IBM RS/6000
M2A
M20

---

7009 User's Guide 80-120MHz MCA Deskside
7009 Overview IBM RS/6000 Compact Server
Compact Server Model C10
Compact Server Model C20

---
7010 Overview IBM RS/6000
120
130
140
150
160
---

7011 User's Guide 33-80MHz MCA Wrkstn
7011 Overview IBM RS/6000
22W
220
23S
23T
23W
230
25E
25F
25S
25T
25W
250

---

7012 20-200MHz MCA Desktop
300 Series User's Guide
G Series User's Guide
7012 Overview IBM RS/6000
G02
G30
Enterprise Server Model G40
32H
320
34H
340
350
355
36T
360
365
37T
370
375
380
39H
390
Workstation/Server Model 397

---
7013 20-200MHz MCA Deskside
J Series User's Guide
7013 Overview IBM RS/6000
J01
J30
Enterprise Server Model J40
Enterprise Server Model J50
Enterprise Server S70 Advanced Model S7A
Enterprise Server Upgrade Model S70
52H
520
53H
530
540
55L
550
560
570
58H
580
59H
590
591
Deskside Server Model 595
---
7014 Overview IBM RS/6000
S00
T00
T42
---
7015 25-200MHz MCA Rack
7015 Overview IBM RS/6000
R00
R10
R20
R21
R24
R3U
R30
R4U
Enterprise Server Model R40
R5U
Enterprise Server Model R50
Enterprise Server S70 Advanced Model S7A
Enterprise Server Upgrade Model S70
930
950
97B
970
98B
980
99J
99K
990
---
7017 125-450MHz PCI Enterprise
7024 100-233MHz PCI Deskside
7025 166-375MHz PCI Wrkstn/WrkGp Svr
7026 166-500MHz PCI Wrkgp Svr- Rack
---
7030 MCA
7030 Overview IBM RS/6000

3AT

3BT

3CT

Workstation Upgrade Model 397
---
7043 166-375MHz PCI Wrkstn/Wrkgp Svrs
7044 333-400MHz PCI Wrkstn/Wrkgp Svrs
7046 375MHz PCI Wrkgp Svr- Rack
SP/1,2 All Node Types (???)
---

POWER2 TECHNOLOGY
The POWER2 technology implemented in this machine is a
next-generation, multi-chip RISC processor implementation of the
POWER Architecture (TM). The processor chips are fabricated in
.5-micron, 4-level metal/1-level polysilicon CMOS 4S and are packaged
on a single, multi-chip ceramic module.
Like the POWER2 technology introduced in September 1993, the
primary features of the system include:
o 32KB, two-way set associative instruction cache and a multi-port,
128KB four-way set associative data cache.
o Dual fixed-point execution units and dual floating-point,
multiply-add-divide units. The architecture provides a quad word
floating-point load/store instruction, convert-to-integer
instruction, square root instruction, new address translation,
and a new interrupt structure.
o Hardware performance monitors accessible by software.
o Memory interface is four-words wide and supports memory up to 2GB
(memory interface on Models 58H and 590 is eight-words wide).
o Binary-compatible with previous IBM RISC System/6000 systems.

LEVEL 2 (L2) CACHE
The introduction of a Level 2 (L2) cache, in addition to the already- resident L1 cache, provides significant performance improvements to many applications. The standard 1MB L2 cache, much larger than the L1 cache, accommodates large programs and increases the probability that the next instruction or data can be found in the cache, avoiding the access of main memory. The L2 cache, L1 cache, and main memory, provide a three-level hierarchy of memory that provides the best balance of cost and performance efficiency for most commercial and technical customers. Existing AIX/6000 application programs will, in general, exploit the new L2 cache without being recompiled.